Voting in Local Elections

Te pōti ki ngā Pōtitanga ā-Rohe
This year's local elections will be held by postal vote. Voting papers and information about the candidates have now been delivered to mailboxes, voting closes at noon on Saturday 8 October.
Find out more about the candidates
We encourage you to learn more about the candidates, there are several ways you can do this.
Helping you to vote for this election

He āwhina i a koe ki te pōti i tēnei pōtitanga
Vote, Pack, Post - Voting packs have been delivered to mailboxes. Make sure you read the instructions carefully, complete your voting document, and post it back in the orange envelope provided no later than Tuesday 4 October (to ensure it arrives back before the deadline).
You can also return your completed voting documents to the orange ballot boxes at the Ashburton Public Library, Methven iHub or Ashburton District Council administration building right up until noon on Saturday 8 October.
No voting pack? Find out about special voting below.
Special voting

Special voting is available if:

Your name does not appear on the final electoral roll, but you still qualify. For example, you may have enrolled after the roll closed.
You did not get a voting paper that had been posted
Your voting paper was spoiled or damaged
You're going to be overseas during the election period
You're on the unpublished (private) roll.

You will need to be on the electoral roll to request a special vote. To enrol, visit vote.nz, call 0800 36 76 56, or freetext your name and address to 3676.

Special voting documents will be available from 9am to 5pm Monday to Friday, from Friday 16 September until Friday 7 October at the Ashburton District Council Office, 5 Baring Square West, Ashburton. Special voting will also be available on Saturday 8 October from 9am until voting closes at noon.

You will need to complete a statutory declaration when you cast a special vote.

Who will I be voting for?

Depending on where you live, you'll have a few elections to vote in:

You'll be asked to vote for a mayor and councillors to represent your ward (Ashburton, Eastern or Western) on the Ashburton District Council.
Residents in Methven will vote for members of their Community Board.
Most residents (apart from Rakaia and the northern part of the district) will also be asked to elect members to the Braided Rivers Community Trust.
You'll also be asked to vote for two councillors to represent the Mid Canterbury constituency for Environment Canterbury

Find out which ward you live in by searching for your address on our ward boundary map.

How does the voting work?

For the 2022 local elections in the Ashburton District, we'll be using the First Past the Post (FPP) voting system, where the candidates who receive the most votes will be elected.

FPP does not use any sort of ranking system. Instead, you place a tick alongside the candidate or candidates you wish to vote for. The maximum number of ticks you can place will match the number of vacancies available, and this will be clearly indicated on your voting paper.

For example, if you're voting for councillors to represent the Ashburton Ward, you'll be able to vote for up to five candidates as there are five vacancies to fill. In contrast, when voting for a Mayor, you'll only be able to vote for one candidate.
Who are we voting for?

E pōti ana tātou mō wai?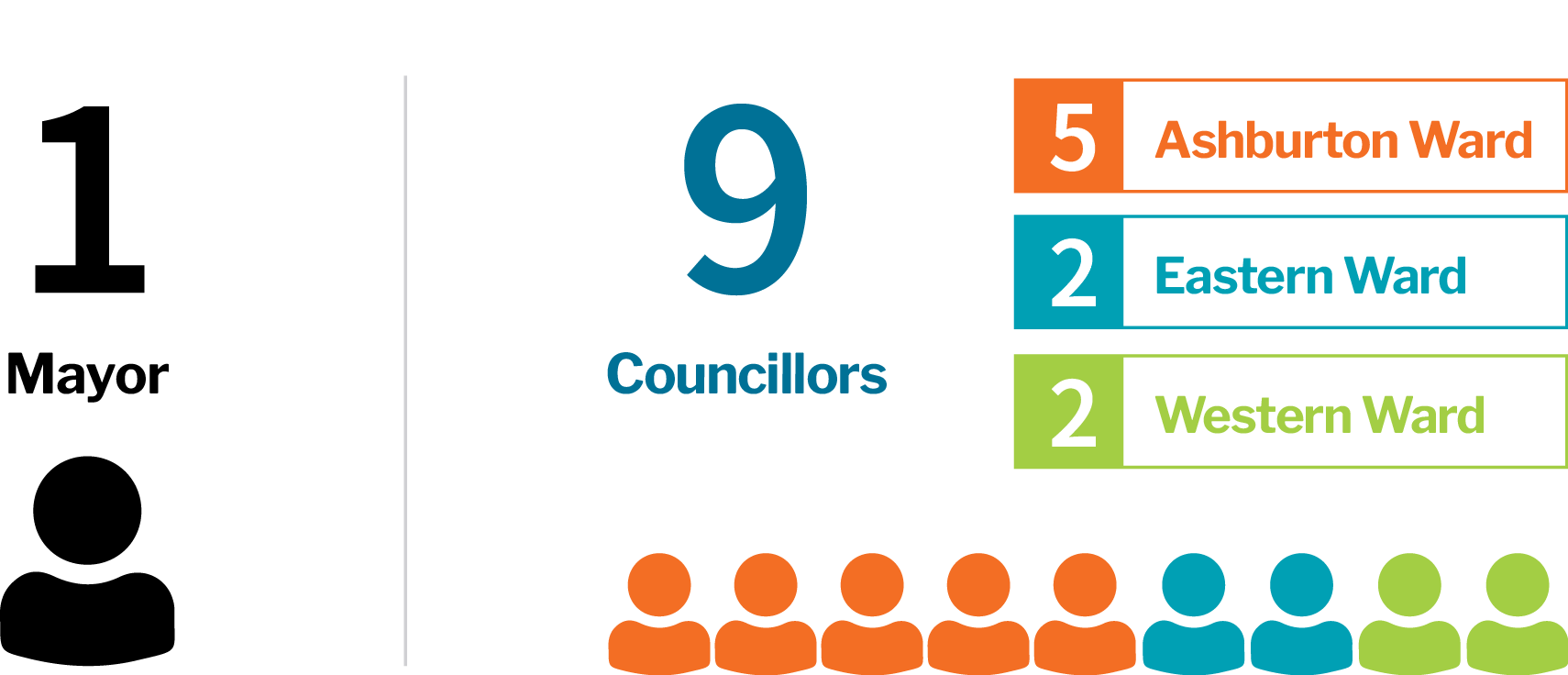 View a map of the ward boundaries here.
Representatives on:

Find Out More

Rapua he kōrero anō
For more information about enrolling and voting, including other language options: